Earth's Wild Music: Celebrating and Defending the Songs of the Natural World (Hardcover)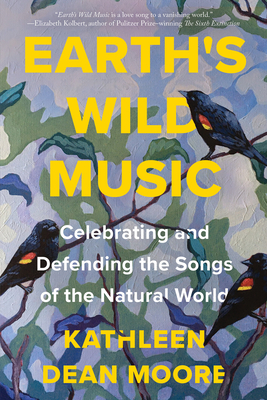 Staff Reviews
---
This book is the healing balm I didn't know I needed for my beaten down morale and soul. Moore skillfully reminds us the magic of the world still exists. We must simply make time to seek out the aptly called wild music of the earth. Her lyrical writing turns science lessons and field observations into poetry and transports you to far flung places. Her stories will inspire you to seek out your own immersive experiences in our wild places. Her direct reminders of existing loss and ongoing dangers to the natural world are not demoralizing and instead provide motivation to believe we can preserve and protect the natural world.
— Cori
Description
---
At once joyous and somber, this thoughtful gathering of new and selected essays spans Kathleen Dean Moore's distinguished career as a tireless advocate for environmental activism in the face of climate change.

In this meditation on the music of the natural world, Moore celebrates the call of loons, howl of wolves, bellow of whales, laughter of children, and shriek of frogs, even as she warns of the threats against them. Each group of essays moves, as Moore herself has been moved, from celebration to lamentation to bewilderment and finally to the determination to act in defense of wild songs and the creatures who sing them.

Music is the shivering urgency and exuberance of life ongoing. In a time of terrible silencing, Moore asks, who will forgive us if we do not save nature's songs?
About the Author
---
Kathleen Dean Moore is the author or co-editor of many books about our moral and emotional bonds to the wild, reeling world, including Wild Comfort, Moral Ground, and Great Tide Rising. She is the recipient of the Pacific Northwest Booksellers' Association Award and the Oregon Book Award, along with the WILLA Literary Award for her novel Piano Tide. A philosopher and activist, Moore writes from Corvallis, Oregon and Chichagof Island, Alaska.
Praise For…
---
A Chicago Review of Books Must-Read of the Month

"Ms. Moore sees and hears much, and she writes about it beautifully . . . With each new book—and the passage of years—Ms. Moore's view grows longer and wider, though it always brings the focus back to a vivid and vital sense of connection." ––Danny Heitman, The Wall Street Journal

"It is Moore's recognition of the music that lives on around us that makes this collection special. It's affirming to read someone who gives credence to the granular parts that compose the larger whole . . . This book's urgency lies in how Moore does bear witness to a disappearing world . . . We have an obligation to lift up the songs and stories of the powerless, the less privileged, and the silenced." ––Jonathan Dale, Chicago Review of Books

"Steeped in nature, brewing alternately with love and rage . . . Moore writes at the intersection of ode and alarm inhabited by the spirits of Mary Oliver and Rachel Carson." ––Lenora Todaro, Catapult

"Exceedingly knowledgeable, experienced, and expressive, this former philosophy professor shares tales of her adventures in the far north, prairies, woods, and beyond, all while emphasizing Earth's gloriously varied soundscape: the songs of birds, frogs, and whales; the calls of bats and wolves . . . Moore details all that we're losing to climate change, spiking gorgeously precise descriptions and dramatic tales of wildlife encounters with grim statistics about the escalating die-off of birds and other species, the 'great starving' underway in the oceans, and the ongoing destruction of forests and wetlands . . . We must prevent the looming silence, Moore asserts, by forming a chorus of voices raised in solidarity with all of Earth's wondrous and essential life forms." ––Booklist (starred review)

"A heartfelt plea to save nature's cacophony. In a series of essays, many previously published, nature writer and environmentalist Moore offers an ardent warning against the perils of climate change and species endangerment . . . An enthusiastic argument that love, care, and defiance may still save the Earth." ––Kirkus Reviews

"Taken together, the essays demonstrate the many ways in which a nature lover can celebrate and advocate for the beauty of Earth, even as it faces widespread, human-caused destruction." ––Amy Brady, Literary Hub

"Passionate, vivid and thoughtful, Moore's essays transport readers to the particular places she loves and urge them to pay attention to the parts of their own world worth loving and saving. Hers is a thoughtful, insistent, necessary voice in the ongoing conversations about how to treat the natural world." ––Katie Noah Gibson, Shelf Awareness

"An enchanting book, Earth's Wild Music draws the reader into the sounds of the natural world and provides inspiration to reverse their decline. Kathleen Dean Moore has a very special and authentic voice. A compelling and magical read." —Thomas E. Lovejoy, Senior Fellow at the United Nations Foundation and Professor of Environmental Science and Policy, George Mason University

"Kathleen Dean Moore rings the bell 'for every sacred emptiness,' and the result is at once heartbreaking and uplifting. Earth's WIld Music is a love song to a vanishing world." —Elizabeth Kolbert, author of  Pulitzer Prize-winning The Sixth Extinction